100% Organic Extra Virgin Olive Oil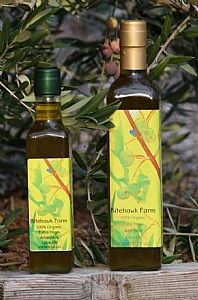 $10 total shipping; no CA tax on food
Because of weather, there were not enough olives for the 2018 harvest, and we are out of 2017 olive oil. Please check back in the fall of 2019. Thank you for supporting Kitehawk Farm.
Available in three sizes, this gourmet artisan Arbequina 100% organic extra virgin olive oil is fantastic for dipping, salads, or on desserts. This year's harvest has a light green grassy flavor with a slight peppery finish on the back palate.
Immediately after picking our olives, instead of pressing, we centrifuge them on site using Mill on Wheels.
Please contact us for commercial or bulk sales.